Despite being rushed off our feet during the current busy sale season we have also had to make the time to finalise our breeding programme as tupping time is now just days away!
Ladies First
Whilst this is a normal occurrence each year, this years programme has been much more of an effort to finalise, as we have taken the decision to consolidate the number of breeding Texel ewes to 40. This is effectively halving the size of the flock but by doing this we strongly feel that we can focus more on the core families that have excelled. This will further improve our results and also (hopefully!) leave some time free for activities away from the flock.
Naturally this has meant some very hard decisions have had to be taken, and at times it has felt like choosing which child to keep!
During this process each and every aged ewe has been reviewed and its contribution to the flock considered very carefully. Information collected on their progeny, which ones have been retained and which sold (and for how much) helped drive the decision making process along with reviewing medical treatment records and individual knowledge of each animal.
The ewes selected for culling have now gone but I must confess to feeling a degree of guilt as I walk past the local kebab shops in case one of them is spinning around in front of the burner 🙁
Now onto the Boys
One of the benefits of going to the different sales is that you get to see literally hundreds and hundreds of Ram Lambs and you can pick and choose the characteristics you like or are trying to breed.
This was responsible for my decision to use Cambwell Trademark as I was very impressed with how his lambs looked. Semen has been purchased and will be used on some of my highest muscle females.
Trusted favourites Wallington Special Brew and Avon Vale Real Deal will again be used as both have bred exceptionally well.
In addition three home bred Ram Lambs by Avon Vale Real Deal will also be used;
PPK1400385 who is by a big classy Ettrick Ewe by Mitchelhill Paparazzi whose female family is the same as the 17,000gn ewe sold at the Select Seven Sale in 2013.
PPK1400423 who is by a much admired Grey Peel ewe by 3,800gn Cambwell Osprey who was purchased at their dispersal sale.
PPK1400391 who is by a massive Tweed Ewe by East Middle Regardez Moi who was purchased for 1,200gn at the Tweed dispersal sale .
Finally I would like to introduce our new addition – Wallington Vigilante who is the second highest index Texel Ram in the breed for 2014.  His sire Talisman has been used in the flock previously and we have been very impressed with the results. Talisman is by Wallington's best and most consistent female PHN09035 .
Vigilante has outstanding figures in all key areas plus he looks the part too.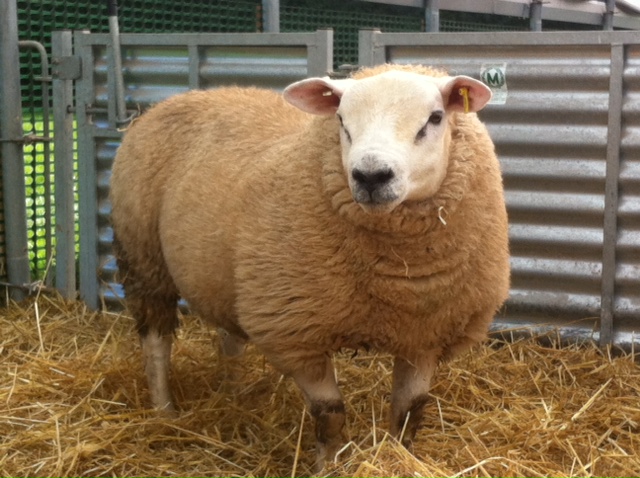 The Stage is Set
So all remains is for the Girls to meet the Boys – really excited and looking forward to seeing the lambs – roll on lambing!